GameBoost, a premium gaming services marketplace, has just concluded its highly successful Spring Rush campaign, which offered customers great discounts on its services, as well as the chance to win big prizes. The campaign ran from April 1st to April 30th and was aimed at gamers who want to level up their gaming experience.
The Spring Rush campaign offered customers a range of services for popular games such as League of Legends, Valoran, World of Warcraft, TFT, Overwatch 2, and Wild Rift. These services included rank boosting, coaching, and duo play boosting, all of which were performed by highly skilled, professional, and experienced gamers.
During the campaign, GameBoost offered discounts ranging from 15% to 30% on its services, depending on the game. League of Legends and Wild Rift services were discounted by 15%, while Valorant services were discounted by 20%, and Overwatch 2 services were discounted by 30%. These discounts were designed to make GameBoost's services more accessible to a wider range of gamers.
In addition to the discounts, GameBoost also offered a big giveaway as part of the Spring Rush campaign. Five invoice IDs out of all of the invoices that came in during April were randomly selected, and the customers who paid for them won a massive prize. The winners were able to choose from three options: a free boost to Master rank (or Immortal 1 if the customer was a Valorant player), equivalent value of Loyalty Points which customers can use as a voucher for GameBoost's services, or a 500€ Gift card for in-game currencies (Riot Points/WildCore/Valorant Points/Overwatch coins).
The Spring Rush campaign ended with a bang, as GameBoost launched its Superweekend sale, which lasted from April 28th to May 1st. During the Superweekend sale, all boosting services were discounted by a massive 22%, with the discount code SUPER22. This was a great opportunity for gamers to take advantage of even greater discounts and level up their gaming experience even further.
Spring Rush Giveaway
Now, it's time to announce the winners of the Spring Rush giveaway. The five lucky winners are:
How to claim your rewards?
If you are one of the lucky winners of the Spring Rush giveaway, congratulations! You will be contacted by GameBoost with further instructions on how to claim your reward. Make sure to check your email inbox (and spam folder, just in case) in the coming days, as GameBoost will be sending out emails to all the winners. Once you receive the email, simply follow the instructions provided to claim your reward. We hope you enjoy your prize and thank you for participating in the Spring Rush campaign!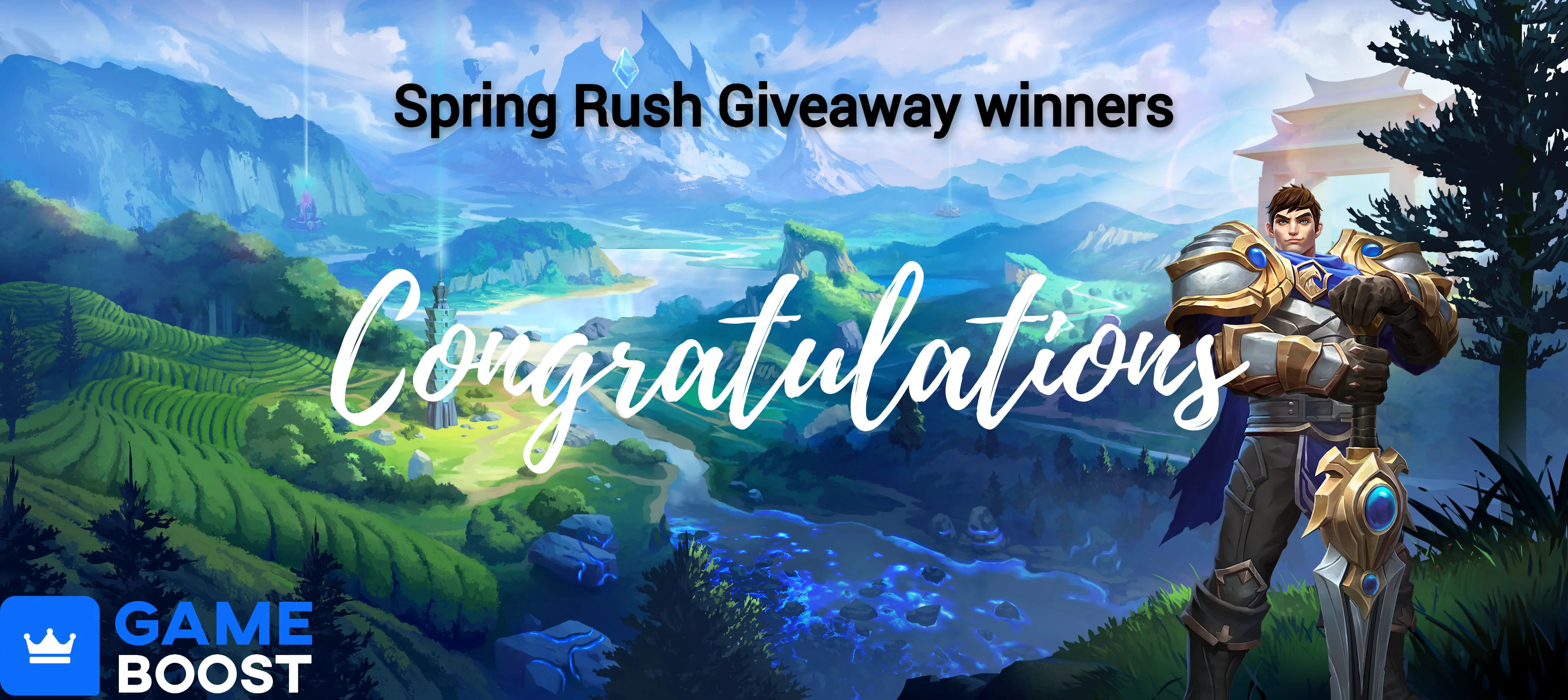 Congratulations to the winners and thank you to everyone who participated in the Spring Rush campaign. GameBoost is committed to providing high-quality gaming services and helping gamers reach their desired goals. Due to the overwhelming success of our Spring Rush campaign, we have decided to extend the discounts until May 15th. That's right, you now have even more time to take advantage of our discounted gaming services for League of Legends, Wild Rift, Valorant, Overwatch 2, and TFT. Whether you're looking to boost your rank, improve your skills with a coach, or team up with a pro player for some duo play, now is the perfect time to do it. We want to thank everyone who participated in our big giveaway, and we are pleased to announce the five lucky winners who will receive a massive prize worth up to 500€. We hope you enjoy your prize and thank you for your support. We look forward to serving all your gaming needs at GameBoost! Keep an eye on our website and social media for the latest deals and discounts and take your gaming experience to the next level.