The biggest campaign on the boosting market ever has officially ended, and we've got some great news for all of you! Our "March Mania" giveaway was a huge success, and we want to thank our customers for making it such a memorable experience. We've been blown away by the engagement and enthusiasm from our community, and we're excited to announce the winners of our end-of-month giveaway. Our prizes are unlike anything ever offered by our competitors, and we're thrilled to be able to reward our customers for their loyalty and support. Let's dive into the results and see who won!
1st Place: Gaming PC + GameBoost Hoodie
Invoice ID: #84935

It's official! The winning ID number for our top prize is #84935, and the lucky customer who purchased it is our grand prize winner! Congratulations on your incredible win! You've won a brand new gaming PC worth 3,000 EUR, along with a stylish GameBoost hoodie. With this gaming PC, you'll be able to take your gaming experience to the next level, whether you're playing your favorite esports titles like LoL, Valorant, Overwatch 2, Wild Rift, or exploring new games.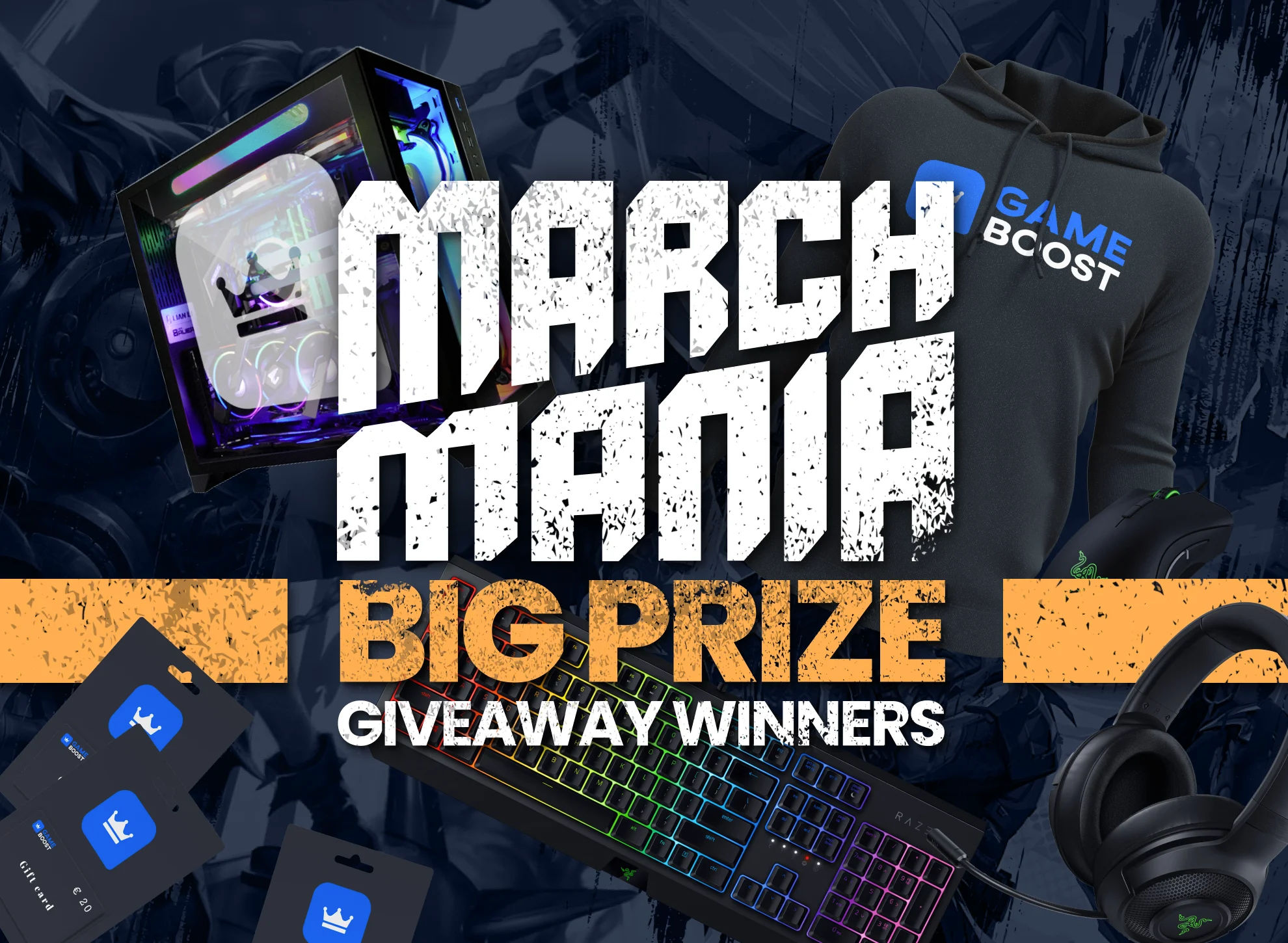 2nd Place: Headset/Mouse/Keyboard Package + GameBoost Hoodie



We are excited to announce that the following ID's are the lucky winners, and the customers who purchased them have won our second place prize! Each of you will receive an incredible Razer gaming bundle, including a headset, mouse, and keyboard, as well as a GameBoost hoodie. These top-of-the-line accessories are designed to enhance your gaming experience and help you achieve your full potential, whether you're a casual or competitive gamer. We hope you enjoy using them as much as we enjoyed giving them away!
3rd Place: 20 EUR GameBoost Vouchers


Congratulations to the 10 lucky winners of our 20 EUR GameBoost vouchers! We would like to extend our warmest congratulations to the winners. Each of you will receive a voucher to use towards any GameBoost service, including LoL elo boost, Valorant rank boost, Overwatch 2 boost, Wild Rift boost, coaching, or LoL accounts. With our top-notch boosting services, you can easily climb the ranks and level up your gaming experience. Use your voucher to improve your gameplay today!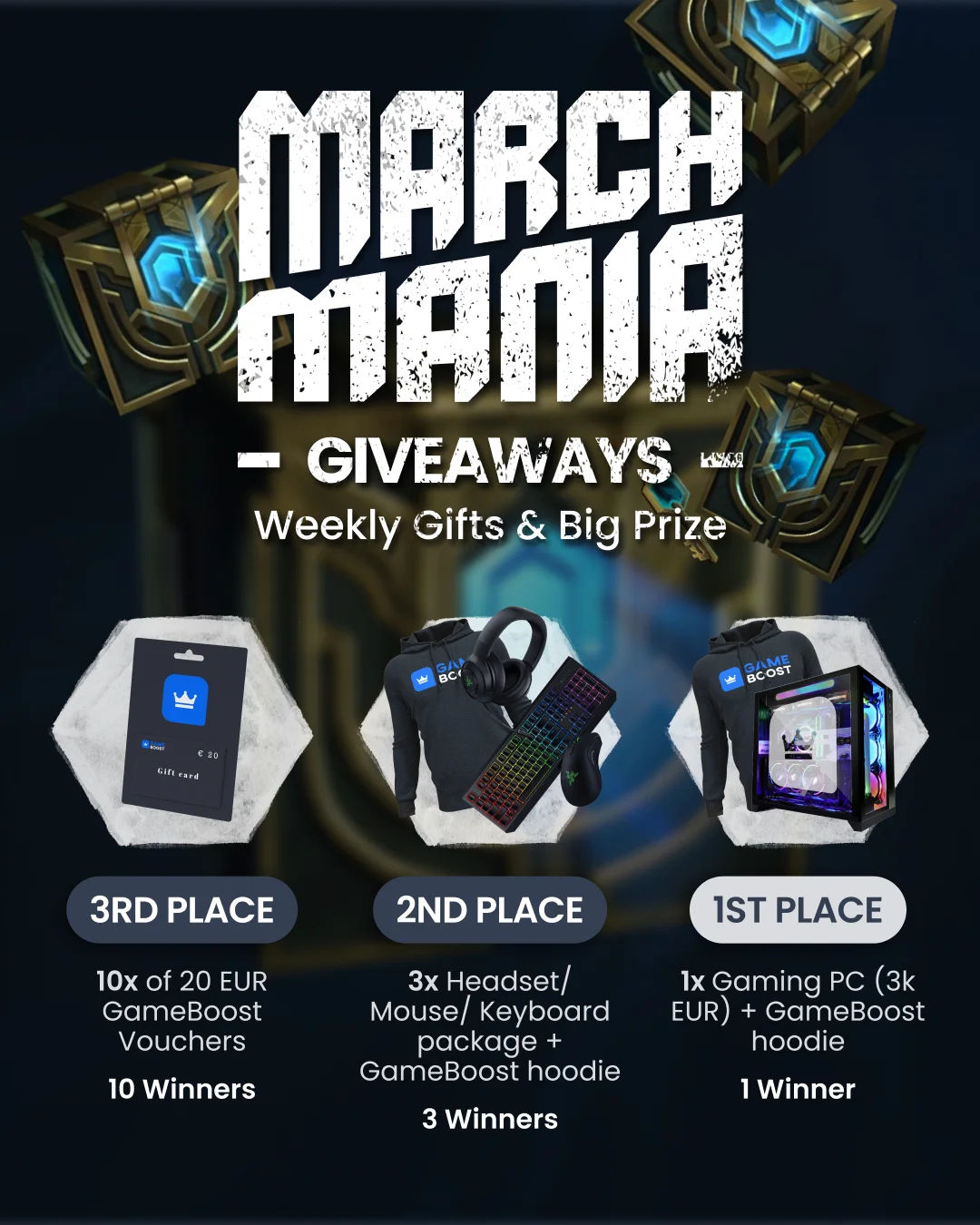 How to Claim Your Rewards
If you see your invoice ID listed above as one of our lucky winners, congratulations! We will be contacting you directly with instructions on how to claim your prize. Please keep an eye on your inbox for a message from GameBoost. If you haven't received an email within 5 business days, please check your spam folder or contact our support team for assistance.
To claim your prize, you will need to provide us with your shipping information and any other relevant details we may need. Please respond to our email as soon as possible so that we can get your prize to you quickly. Thank you again for participating in our "March Mania" giveaway, and we hope you enjoy your new gaming gear!
Join the GameBoost Family and Experience the Best Gaming Services in the Industry!
We're proud to offer our customers the best gaming services in the industry, including elo boost, coaching, account shop, and more. At GameBoost, we're truly grateful to have such an amazing community of gamers who share our passion for gaming. It's because of you that we're able to provide top-notch gaming services and offer exciting giveaways like this one.
We appreciate your continued support and look forward to helping you achieve even greater success in your gaming journey. Thank you again for being a part of the GameBoost family. Let's keep the gaming spirit alive!