The MSI 2023 tournament is right around the corner, where 13 of the world's top League of Legends teams will compete for the championship trophy. In this guide, we'll cover everything you need to know about MSI 2023, from the schedule and format to the teams competing and how to watch the action live.
The MSI 2023 Schedule and Location
MSI 2023 will be held at the Copper Box Arena in London, starting on May 2 with the Play-In stage and culminating in the Grand Final on May 21. The dates for each stage are as follows:
| | |
| --- | --- |
| Play-In Stage | 2nd May to 7th May |
| Bracket Stage | 9th May to 14th May and 16th May to 20th May |
| Grand Final | 21st May |
The MSI 2023 Format
This year, Riot Games has expanded the MSI 2023 format to include 13 teams, up from 11 in previous years. The LCO region no longer has direct slots to MSI, but Riot Games has allocated a second seed to the runners-up from North America, Europe, China, and South Korea.
The first seeds from North America, Europe, and China, as well as South Korea's two seeds, have qualified for the Bracket Stage, bypassing the Play-In stage. The remaining eight teams will compete in the Play-In stage, where they will battle it out for a spot in the eight-team Bracket Stage.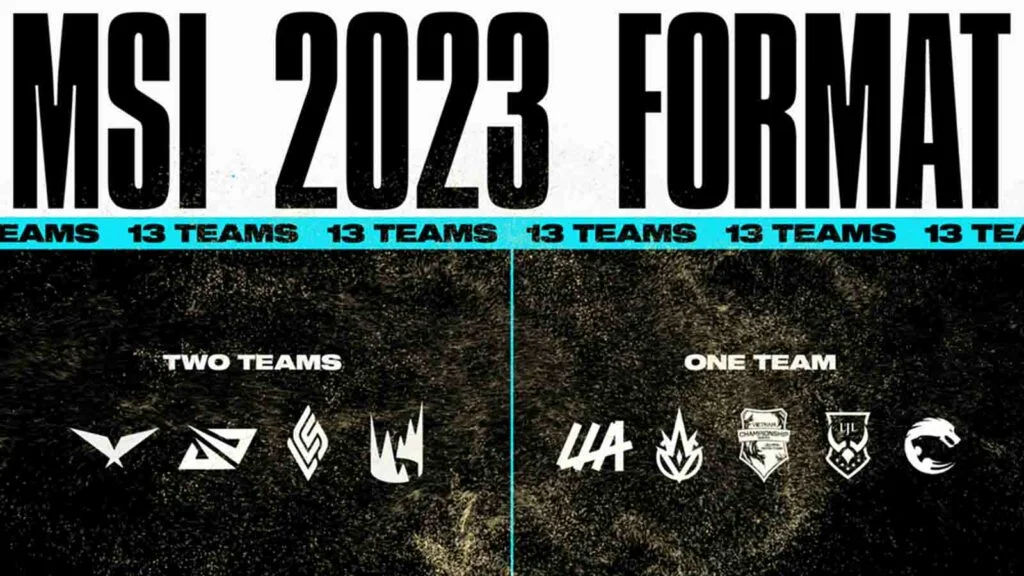 The Teams Competing at MSI 2023


Here's a rundown of the 13 teams competing at MSI 2023 and where they will begin the tournament:
Play-In Stage Teams:


PCS: Talon Esports
LPL #2 seed: Bilibili Gaming
LJL: DetonatioN FocusMe
LCS #2 seed: Golden Guardians
LEC #2 seed: G2 Esports
LLA: Movistar R7
CBLOL: LOUD
VCS: TBA
Bracket Stage Teams:
LCS #1 seed: Cloud9
LCK #1 seed: Gen.G
LCK #2 seed: T1
LPL #1 seed: JD Gaming
LEC #1 seed: TBA
Where to Watch MSI 2023


Fans can watch MSI 2023 live on Riot Games' Twitch and YouTube channels. Those who wish to attend the tournament in person can purchase tickets on the axs.com website.
In summary, MSI 2023 is gearing up to be an exciting tournament with top-notch teams from around the world competing for the championship title. Make sure to mark your calendars and tune in to Riot Games' broadcast or grab your tickets to attend the event live!