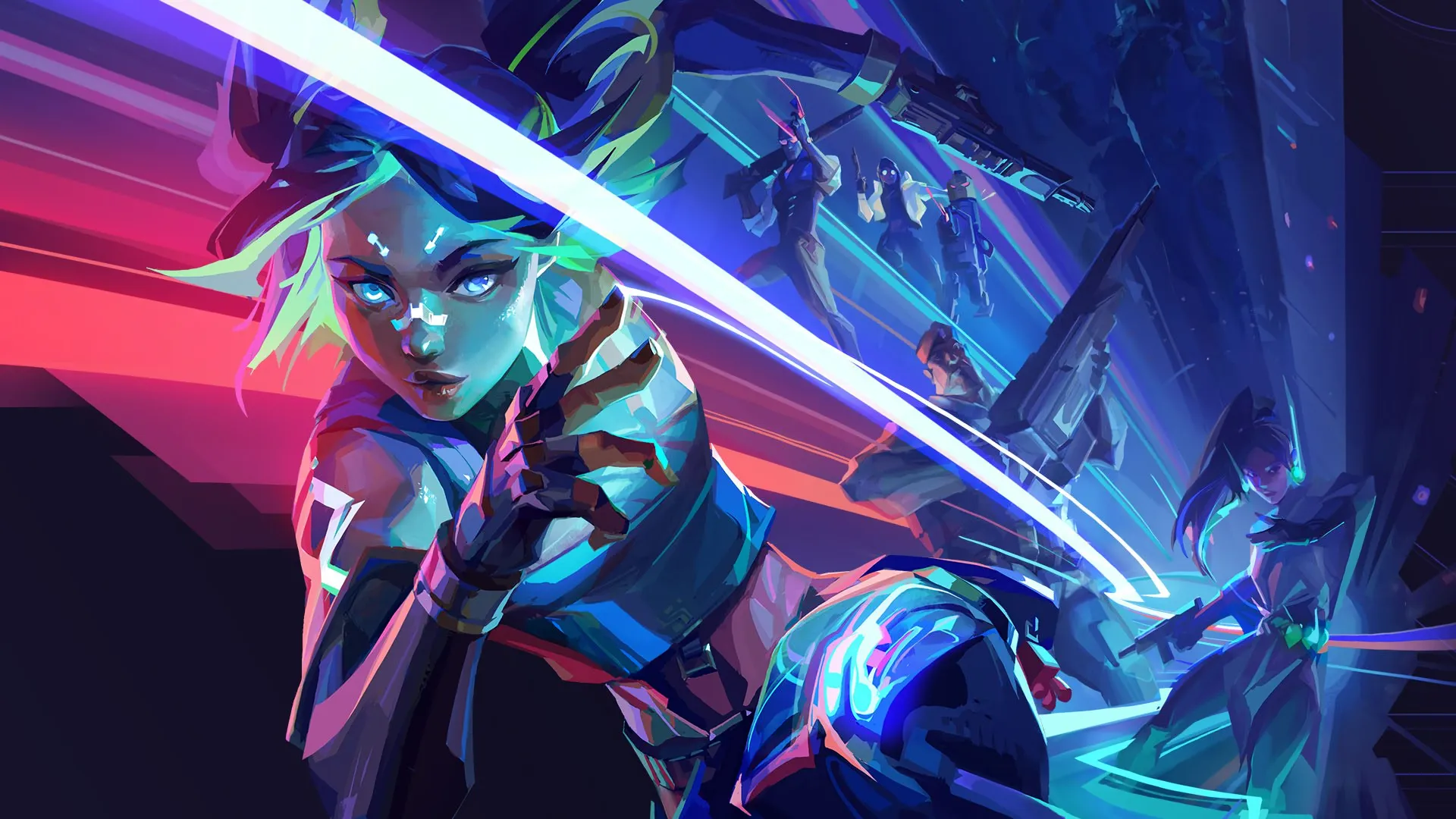 Valorant Boosting
High quality and affordable Valorant boosting services.
Boosting Services
We offer a wide variety of boosting methods, feel free to contact us for a custom order.
Frequently Asked Questions
League of Legends
Take advantage of Valorant Boost
Benefits of Valorant Boost
Valorant Boost can give you advantages that make gaming more enjoyable, expedite your progress, and help you achieve your goals faster. Improvement requires time, but buying Valorant Boost gives you access to the top 0.1% of players, who have the experience and dedication to assist you in achieving your objectives.
How it feel to climb without Valorant Boost
Playing without Valorant Boost can be challenging because you're competing with millions of people, and not every player on your team will be at their best. Valorant Boost can help you improve by playing with better players and making matches more enjoyable.
Progress faster with Valorant Boost
With Valorant Boost, you don't have to be concerned about slow progress, and you can improve your account, Elo, and MMR even if you're not playing. Duo Boosting means you don't have to worry about losing the game if you've played well.
Meet the best players through Valorant Boost
To be a Valorant Booster at GameBoost, you must be in the top 0.1% of players in the world. By purchasing Valorant Boost services, you not only get access to the best players, but you're also supporting people who have worked hard to reach the top.
Valorant Boost takes the stress out of climbing
Valorant Boost can reduce the stress that comes with ranking up in SoloQ. Solo Boosting can help you achieve a higher rank more easily, while Duo Boosting allows you to have fun playing and win with someone who performs well.
How to buy Valorant Boost
To get started and take advantage of all the great benefits of Valorant Boost, check out our Valorant Boost services, where you can find experts ready to take you to the next level.
What is Valorant Boosting?
Valorant Boosting is a popular service in the game Valorant. Its main aim is to assist players in achieving higher ranks, tiers, or MMR (Matchmaking Rating). This service connects players with highly skilled Boosters who work to improve their rank, tier, MMR, or any other desired score on their accounts.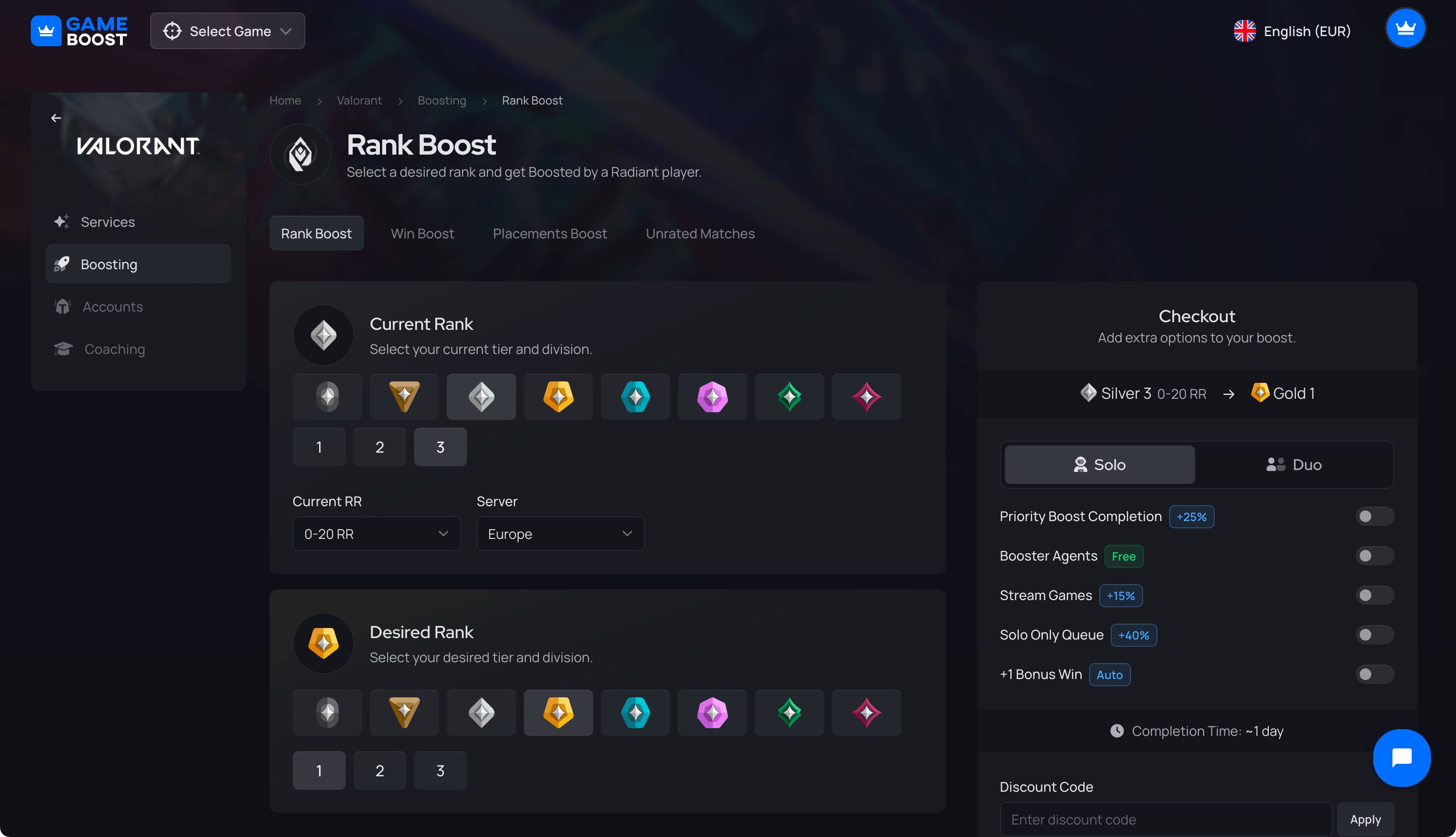 Most classic service that is focused to get you to a higher rank. Regardless of whether you find yourself in Silver, Platinum, Immortal or any other rank, with Valorant Rank Boost you can get to any rank you want. All you have to do is select your current rank, then your desired rank and the Booster will do his job.

This Pay2Win service allows players to pay for a specified number of game wins by a TOP player. These wins, also known as net wins, are designed to improve the player's MMR. The formula for net wins is wins - losses, meaning the Booster compensates for each loss with an additional win.

This service is designed for new accounts or new seasons. A Radiant player will play placement games on your account. To use this service, the player's account must be unranked, and they can order a maximum of 5 placement games, which is the amount required for a fresh start in Solo/Duo ranked.

If you wish to play DUO with our Booster or have him troll your friends, this service is for you. It's exclusively for Normal Games, which means non-ranked modes. It's also compatible with Aram and URFs.

Custom Orders:

We are also open to custom orders! Please feel free to contact us through Live Chat to discuss your specific requirements.
Alternative terms for Valorant Boosting
Elo Boosting:

This term describes the process of boosting a player's Elo rating, which is a numerical measure of skill in Valorant.

MMR Boosting:

MMR stands for Matchmaking Rating, and this term is commonly used among Valorant players to describe the process of boosting their MMR.

Rank Boosting:

This term refers to improving a player's rank in the game Valorant.

Valorant Boost:

It is an abbreviation for "Valorant Boosting", used to indicate the act of boosting a player's performance or rankings in Valorant.

Boosting in Valorant:

Original term that refers to Boosting in Valorant
We Like To Keep It Fast And Easy
We take the complexity out of buying Boosting, Accounts and Coaching.
1. Select a Service
Pick your desired in-game service, and customize it.
2. Make a Secure Payment
We accept all major credit cards, PayPal, Paysafe Card, Apple Pay and more.
3. Enjoy Your Service
Rank up, get your account or schedule your coaching session.
More Than 97,000+ Gamers Trust Us
Excellent
5.0

out of 5.0

Based on 5,074+ reviews