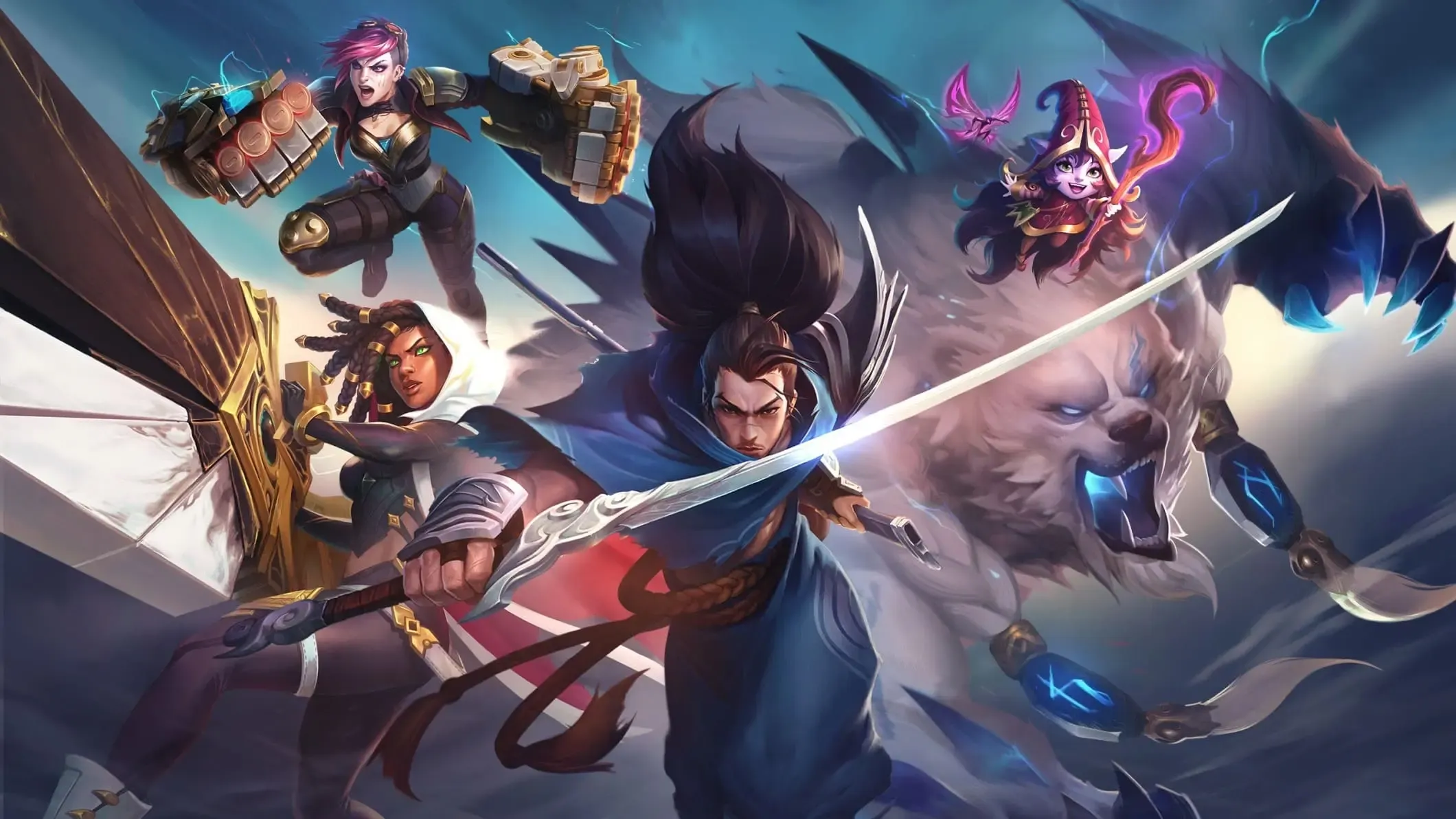 League of Legends Boosting
High quality and affordable League of Legends boosting services.
Boosting Services
We offer a wide variety of boosting methods, feel free to contact us for a custom order.
Frequently Asked Questions
League of Legends
Gain a competitive edge with League Boosting
Benefits of League Boosting
League Boosting offers a lot of advantages that can enhance your enjoyment of the game, accelerate your progress, and unlock your true potential.
To get better at something it takes time. By buying League Boosting you get access to the TOP 0.1% League players of the world that spent years of work, patience and dedication to get to this level. The goal of these players is to help you accomplish whatever desire you might have. With that kind of access, you smurf your way through in more efficient and faster method that others. League Boosting is a tool that helps you to get ahead of others.
League Boosting take the stress out of ranking up
SoloQ is a really stressful environment. If you are carrying the game your team will put a lot of stress on you. They will think that you will carry the match and start to do random fights for fun. On the other hand, if it's not your best day and you are underperforming, they will blame you for the loss. Everyone wants to get to a higher rank and often they get emotional about it, things can get really tense. Solo Boosting can help you to get higher without worrying on all that stress that comes from carrying games and Duo Boosting will make your games more fun because you will always have someone next to you that will perform and win the game with you.
Climbing without League Boosting
You probably know the struggle of getting higher rank on your own. Getting better at competitive games is hard and takes time. You compete with millions of people and not everyone that you get in your team will be in his peak performance or peak mood, it means that sometimes you get bad players that make the matches almost unwinnable.
LoL Boosting makes you improve
It's hard to improve when you constantly play on the same level. Getting into better environment makes you improve faster and makes the matches more enjoyable.
Use LoL Boosting to save your time
With League Boosting service you don't need to worry about the slow progress. No matter if you are at work or outside with friends, by using League Boosting you can climb up, get your account higher, get more elo and improve your MMR.
No more bad and toxic players with Duo Boosting
We all hate when we get trolls and inters in our games but this is where Duo Boosting comes in handy. You don't need to worry anymore that you will lose the game even if you played close to perfection. Your Duo Booster is there to assure you a free-win no matter what happens.
Meet amazing League Boosters
To become League Booster at GameBoost you need to be the Top 0.1% player in the world. There are no limits on what you can ask them and how you want them to help you. We have a lot of different services and the possibility of custom order. Having access to that kind of people gives you a lot of new opportunities.
Support LoL Boosters
Boosting gives opportunity for the most skilled players to do what they like and make a living out of it, a lot of them come from poor countries and League Boosting is one of the most paying jobs in their area, that allows them to provide for themselves and their families. If you buy League Boosting services, you will directly support those people who have spent years and years of hard work and training into their craft.
So what are you waiting for?
Buckle up and pick your League Boosting service. All the boosters are waiting for you! Remember that we are there 24/7, feel free to ask us anything on our LiveChat
What is LoL Boosting?
LoL Boosting is the most popular service in League Of Legends. The goal of LoL Boosting is to help you get a better rank, elo, division in LoL. The way the service works is that you connect with a highly skilled Booster who will help you increase your ranking, division, elo or any score that you want to improve on your account.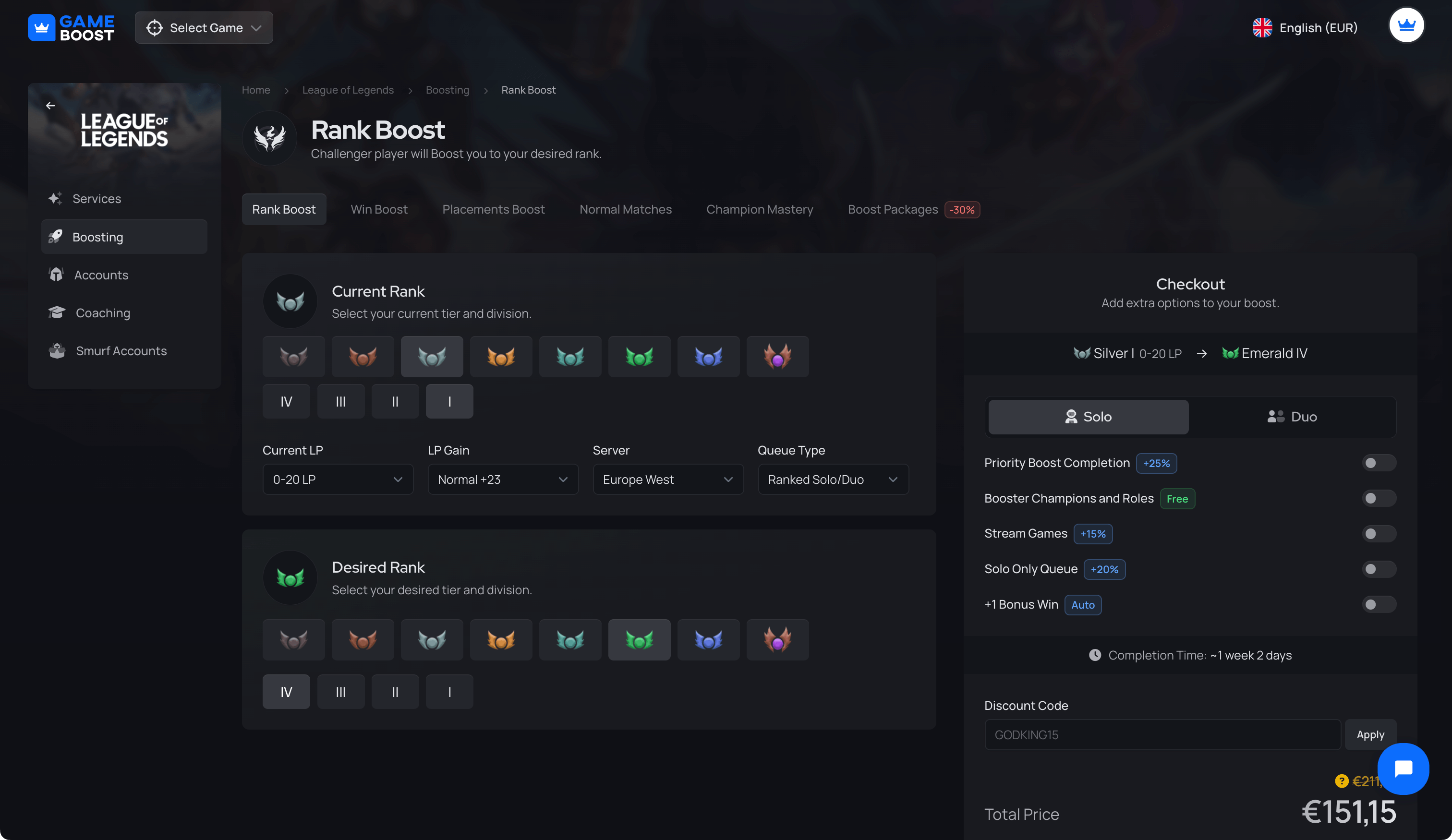 Alternative terms for LoL Boosting
Elo Boosting:

A way to improve a player's Elo rating, which measures skill level in the popular game, League of Legends.

MMR Boosting:

Term used when players want to increase their Matchmaking Rating in League of Legends.

Rank Boosting:

Means helping players improve their rank in League of Legends.

Lol Boost:

An abbreviation for "League Of Legends Boost".

League Boosting:

Refers to various services that help players progress through the ranks of League of Legends.
We Like To Keep It Fast And Easy
We take the complexity out of buying Boosting, Accounts and Coaching.
1. Select a Service
Pick your desired in-game service, and customize it.
2. Make a Secure Payment
We accept all major credit cards, PayPal, Paysafe Card, Apple Pay and more.
3. Enjoy Your Service
Rank up, get your account or schedule your coaching session.
More Than 97,000+ Gamers Trust Us
Excellent
5.0

out of 5.0

Based on 5,074+ reviews