It's critical to understand how to buy or sell a League of Legends account in a safe and secure manner. What you need to know is as follows:
Where to Find League of Legends Accounts for Sale
There are a few options accessible when it comes to purchasing and selling League of Legends accounts. On third-party services like GameBoost, which specializes in buying and selling accounts for well-known titles like League of Legends, you can purchase or sell accounts. These websites often provide a safe environment for transactions, protecting both buyers and sellers.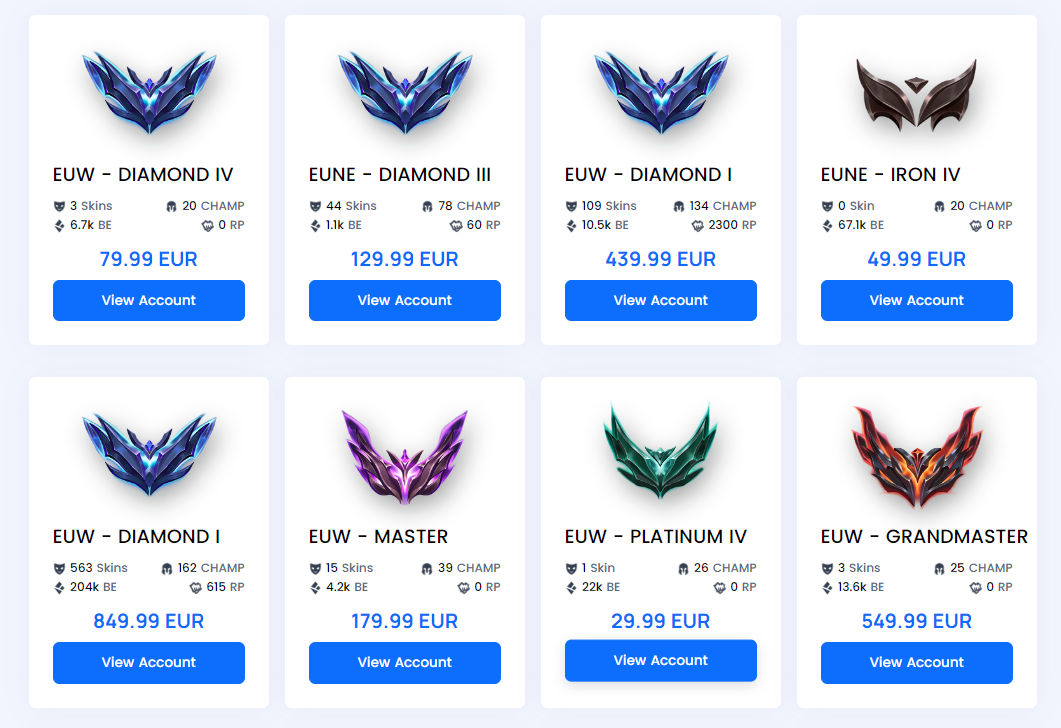 What to Look for in a League of Legends Account
If you're looking to buy a League of Legends account, there are few things you should look for to ensure that you're getting a good deal. First, check the account's rank and level, as well as the number of champions and skins it has. Second, check the account's win rate and MMR. High MRR accounts are usually more valuable. Another thing that boosts the value of the account is if it's an old account, preferably hand leveled and if it has any rare ward skins, icons and emotes.

Selling Your League of Legends Account: Steps to Take
There are a few things you can do to make sure you get the greatest deal when selling your League of Legends account. Check first to see that your account is active and hasn't been flagged for fraud or other offences. Second, compile any relevant information about your account, such as its rank, level, champions, skins, and win rate. Make sure you have all the necessary account recovery information so the buyers won't have to worry about the security of the account To ensure a risk-free and secure transaction, advertise your account on a trustworthy third-party website like GameBoost.
How to Avoid Scams and Fraud
Whether you're buying or selling a League of Legends account, it's important to be aware of common scams and fraud. Avoid deals that appear too good to be true, especially if you are buying from a private seller. Always use a secure payment method to ensure that your transaction is protected.
The best advice for both, buyers and sellers is to buy LoL accounts only at trusted and verified marketplace websites like GameBoost. That way you don't have to worry about any scams and there is always support team to help you out if you have any questions.
If you're interested in buying or selling a League of Legends account, GameBoost offers a secure and reliable platform for transactions. Our account shop features a wide selection of high-quality accounts, ranging from unranked to challenger, with various numbers of champions and skins. Visit our account shop today to check out our inventory and find the perfect account for you.

In conclusion, League of Legends account market is there and it's pretty big. There is high supply and high demand. Situation is good both for sellers, and buyers. Sellers can be assured that if they have a good quality account they will for sure be able to sell it while the buyers can always find a fair deal. If you add a great service provider like GameBoost, you can't go wrong!